Insurance is Not the Only Barrier to Vaccinations
AmeriHealth Caritas Offers Ideas for Reducing Childhood Immunization Disparities

Philadelphia, Pa.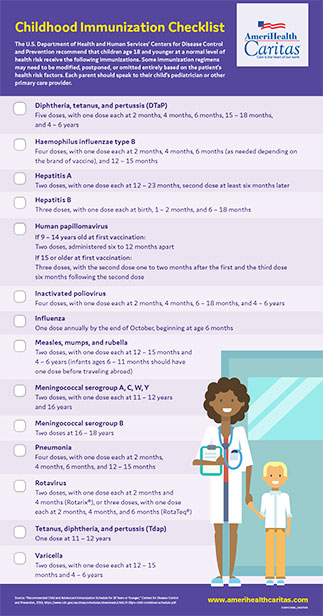 Download PDF
According to research by the Centers for Disease Control and Prevention (CDC), childhood vaccination rates are lower among uninsured children than those covered by commercial health insurance. But the same research finds that children who receive Medicaid, which covers all CDC-recommended childhood immunizations through the Vaccines for Children program, obtain those immunizations at a lower rate than their commercially insured counterparts. This means that low-income children and their parents often face barriers beyond paying for the vaccines alone.
"There are barriers other than out-of-pocket cost that low-income families experience, such as lack of access to transportation or adequate time off from work for doctor appointments, that can impact vaccination rates," says Dr. Andrea Gelzer, senior vice president of medical affairs for AmeriHealth Caritas, a national leader in Medicaid managed care and other health care solutions for those most in need.
The CDC reports that the percentage of children who have received no vaccinations has increased in recent years. Additional children receive some but not all of the recommended vaccinations.1
Dr. Gelzer suggests several things that the health care community can do to address vaccination disparities:
Make the most of opportunities to vaccinate: Since it can be difficult for families covered by Medicaid to get their children to medical appointments, providers should make the most of opportunities to vaccinate. Every time a patient sees his or her pediatrician, the provider's office should check to see if the patient is due for any vaccinations in the near future and discuss options for administering them, including at the same appointment if possible.
Assist with transportation: Under federal law, state Medicaid programs are required to cover transportation to and from medical appointments and for other non-emergency medical purposes, though states have latitude in how they administer the benefit.2 For those not covered by Medicaid but still lacking transportation, health plans, providers, and community organizations can look at collaborative ways to remove this barrier to care, such as by funding rides with mass transit and ride sharing services, or by connecting patients with community volunteers to drive them.
Mobile vaccination programs: Health insurance plans and health care providers frequently collaborate to offer preventive health screenings at off-site locations, making that care more accessible to those lacking transportation and other means to reach brick-and-mortar provider offices. This approach could be expanded to include vaccinations.
Hill, H. et al. Vaccination Coverage Among Children Aged 19-35 Months — United States, 2017. Morbidity and Mortality Weekly Report. U.S. Department of Health and Human Services/Centers for Disease Control and Prevention 12 Oct. 2018, 67:40. https://www.cdc.gov/mmwr/volumes/67/wr/mm6740a4.htm
Musumeci M. and Rudowitz R. Medicaid Non-Emergency Medical Transportation: Overview and Key Issues in Medicaid Expansion Waivers. Kaiser Family Foundation, 24 Feb 2016. Accessed 16 Sep 2019.