AmeriHealth Caritas Florida Family of Health Plans
Join a provider network where Care is the Heart of Our Work®
The AmeriHealth Caritas Florida Family of Health Plans will be offering an array of products and expanded services in Florida. By providing quality, affordable health care insurance no matter the health barrier, the social condition, or material and economic security, we align our whole-person model of care vision to empower those in need during their full life's journey.
---

Medicaid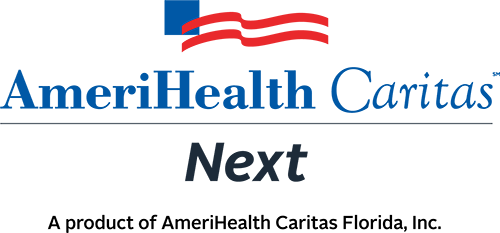 Florida Health Insurance Marketplace®

Medicare Advantage Dual-Eligible Special Needs Plan (D-SNP)
Medicaid
AmeriHealth Caritas Florida is currently developing an expanded network of hospital, physicians, and ancillary health care providers in order to qualify for the Florida Statewide Medicaid Managed Care Program (SMMC). We intend to respond to the Invitation to Negotiate (ITN) for the SMMC that we anticipate will be released in the fourth quarter of this year.
Our goal is to work with the Florida Agency for Health Care Administration (AHCA) to arrange for the delivery of health services, including Long-Term Care (LTC), to Floridians who are Medicaid eligible. We want to work with dedicated providers like you to deliver high-quality, coordinated, and integrated health care services to underserved populations throughout Florida.
Health Insurance Marketplace®
AmeriHealth Caritas Next offers affordable health plans for eligible individuals or families who do not have coverage through their employer and do not qualify for Medicare or Medicaid. AmeriHealth Caritas Next is available in select southeastern Florida counties with whole-person care for today, tomorrow, and whatever comes next.
Medicare Advantage Dual-Eligible Special Needs Plan (D-SNP)
AmeriHealth Caritas VIP Care is a Medicare Advantage D-SNP plan for those beneficiaries who are dually eligible for both Medicare and Medicaid. AmeriHealth VIP Care will offer extra benefits and support to assist our dual-eligible members in accessing their Parts A, B, and D benefits that are normally provided under traditional Medicare. Our approach integrates proven, established care management, preventive services, and other programs that effectively coordinate care for aged, blind, and disabled individuals.
We work better when we work together.
We work effectively and efficiently with our dedicated providers. Together we can help deliver quality, cost-effective, integrated health care services to improve health outcomes for Floridians.
How to join
Information on how to contract for additional products
Participating providers*
Upon request, participating providers will receive an amendment to their existing contract. To request an amendment to your existing contract, please complete the Provider Contract Inquiry Form (PDF) and current roster and return by email to ProviderRecruitmentFL@amerihealthcaritas.com.
*Participating providers do not need to complete data intake or credentialing forms.
New providers who would like to participate:
To request a Provider Agreement, please complete a Provider Contract Inquiry Form (PDF) and return by email to ProviderRecruitmentFL@amerihealthcaritas.com.
Contact us with questions
To learn more about the AmeriHealth Caritas Florida Family of Health Plans, please view our Provider Introduction presentation (PDF).
We offer:
Population health management.
Our population health management strategy uses a person-centered approach that supports providers in listening to and respecting member and family choices, including cultural, spiritual, and linguistic preferences.
Disease management and healthy behaviors programs.
We encourage members to actively participate in improving and maintaining their health, and we reward them for practicing healthy behaviors.
Behavioral health resources and support.
We recognize that physical health is just one part of wellness. That is why we integrate behavioral health services and administer them directly. We offer tools and training to help providers screen for behavioral health conditions, such as depression and substance use disorder. We design new programs to improve member health, tailored to the needs of the membership.
Partnership with the community.
We collaborate with existing community organizations on programs and care plans to connect members with the help they need.
Local presence.
We staff our Florida health plan with local professionals who know the community because they already live and work here.
E-solutions.
We will support your practice with technology to simplify administration, from claims submission to patient health management.