Improving Maternal Health Outcomes
Black women in America are two to three times more likely to die from pregnancy-related causes than white women. In 2021 alone, the maternal mortality rate for non-Hispanic Black women was 69.9 deaths per 100,000 live births — more than 2.5 times the rate for non-Hispanic white women.1
Racial disparities in health outcomes can stem from multiple factors, including:
Inequities in access to the social determinants of life, such as quality health care, education, and resources
Underlying chronic health conditions exacerbated by structural racism and inadequate medical treatment
Implicit health care community bias that can create medical mistrust and discourage Black women from seeking timely medical care during pregnancy
A disproportionate number of Black women living below the poverty line
Overall, these social and health inequities create obstacles to physical, emotional, and economic well-being. Pregnant women who face such inequities, along with the children they carry, are far more vulnerable to complications throughout their entire maternal health cycle.
According to the CDC, in 2021, the maternal mortality rate for non-Hispanic Black women was 69.9 deaths per 100,000 live births — more than 2.5 times the rate for non-Hispanic white women.
AmeriHealth Caritas' response to the Black maternal health crisis
We are committed to addressing Black maternal health disparities as part of our mission to help people get care, stay well, and build healthy communities. Through our whole-person, holistic approach to health care, we seek to understand and address not only clinical care needs, but also the social and cultural inequities that impact our members' overall well-being and trust in the support systems they rely on.
AmeriHealth Caritas responds to the unique maternal health needs of its members with special programs and services that include attention to the social determinants of life, pregnancy risks, behavioral challenges, and social supports. We advocate for greater attention to the root causes of Black maternal health disparities and work with providers and community organizations to help improve maternal health outcomes.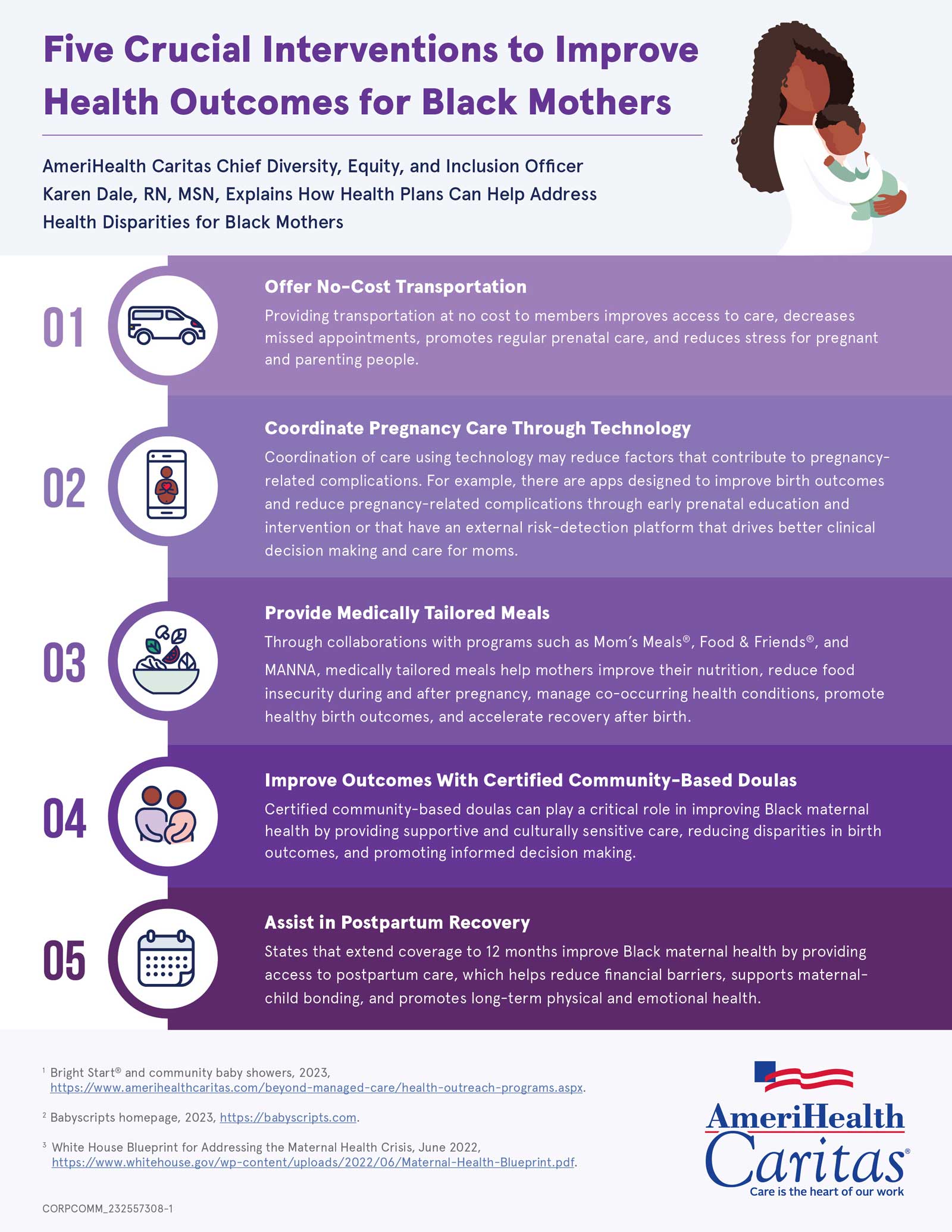 Download the Five Crucial Interventions to Improve Health Outcomes for Black Mothers PDF.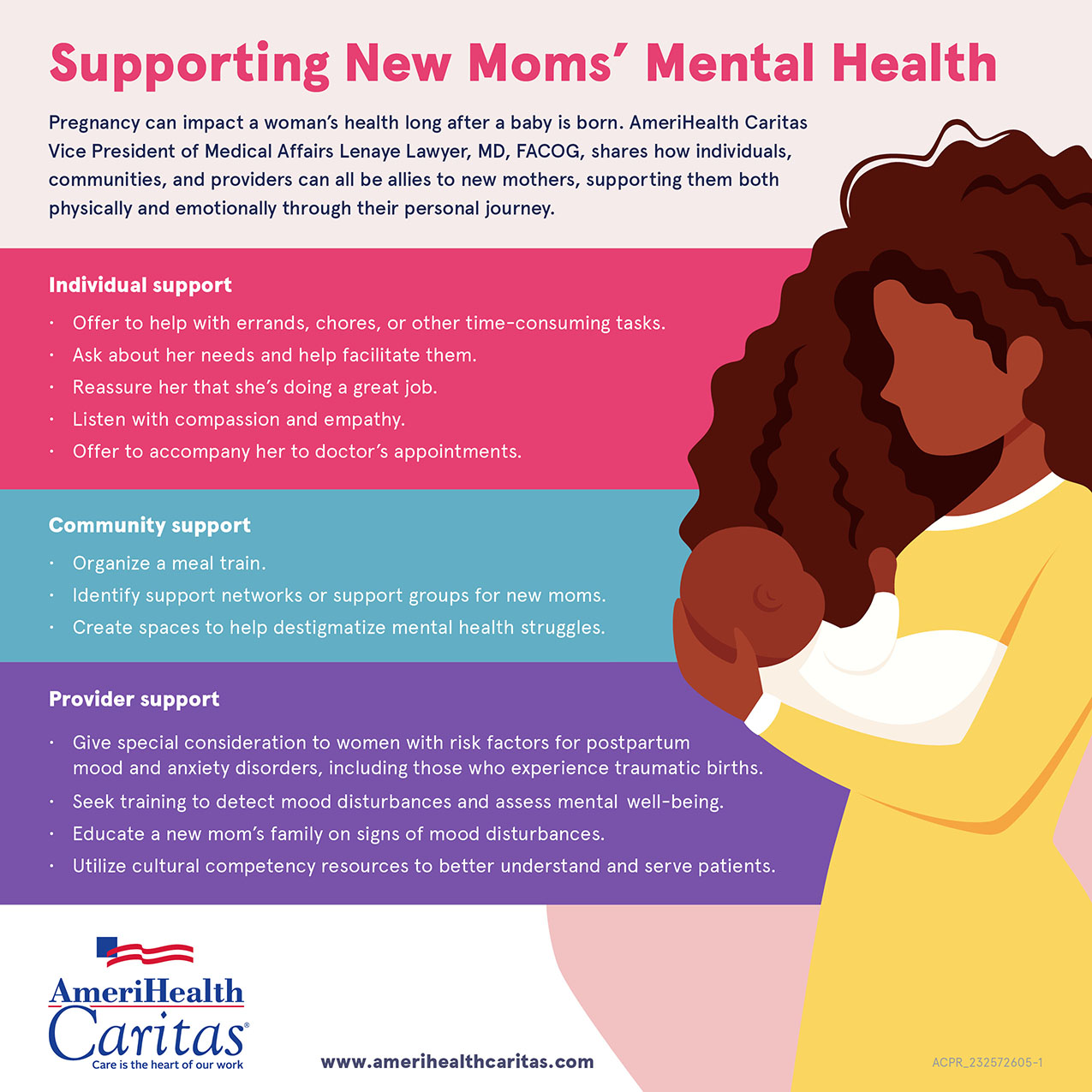 Download the Supporting New Moms' Mental Health PDF.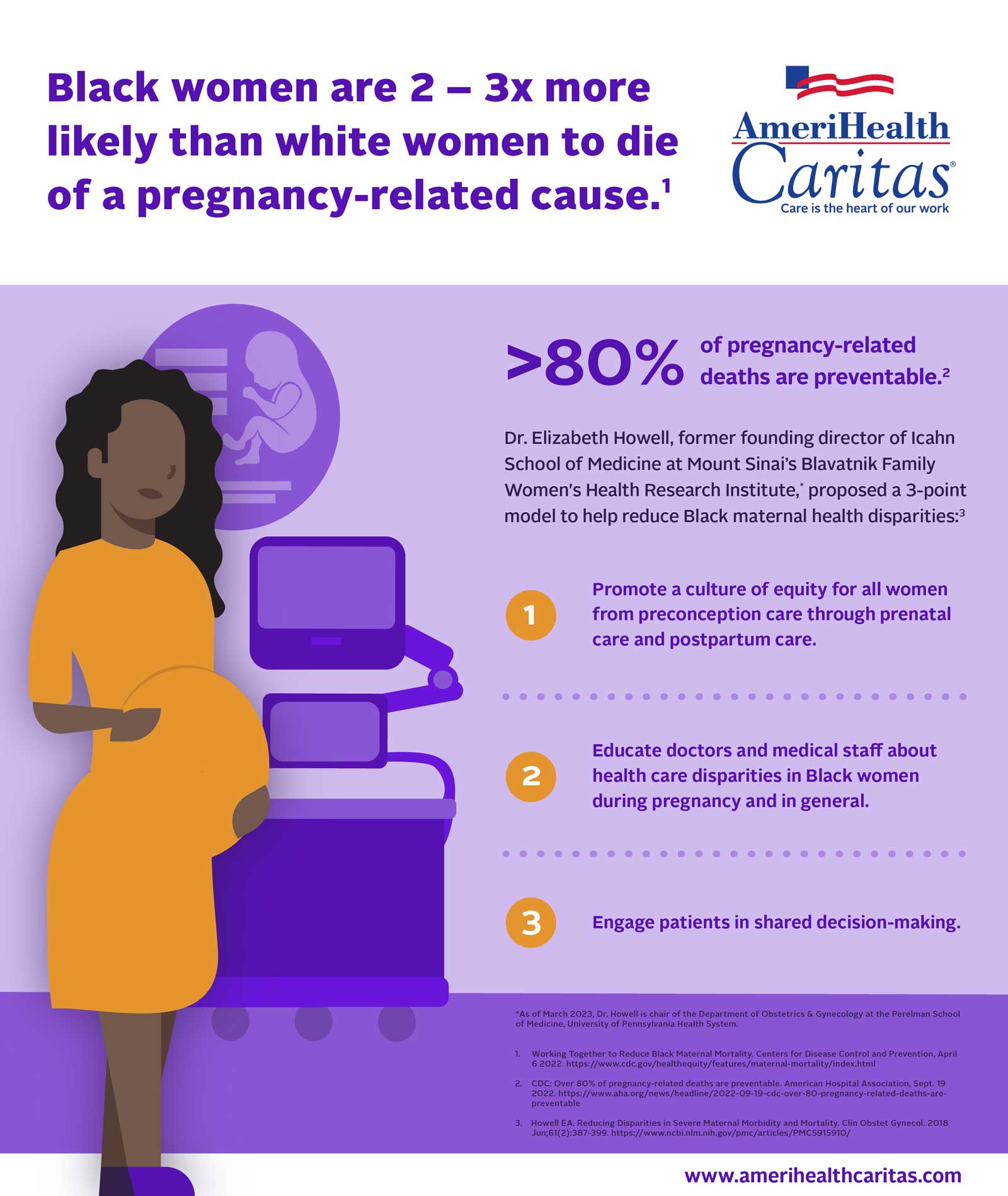 Download the Black maternal health outcomes PDF.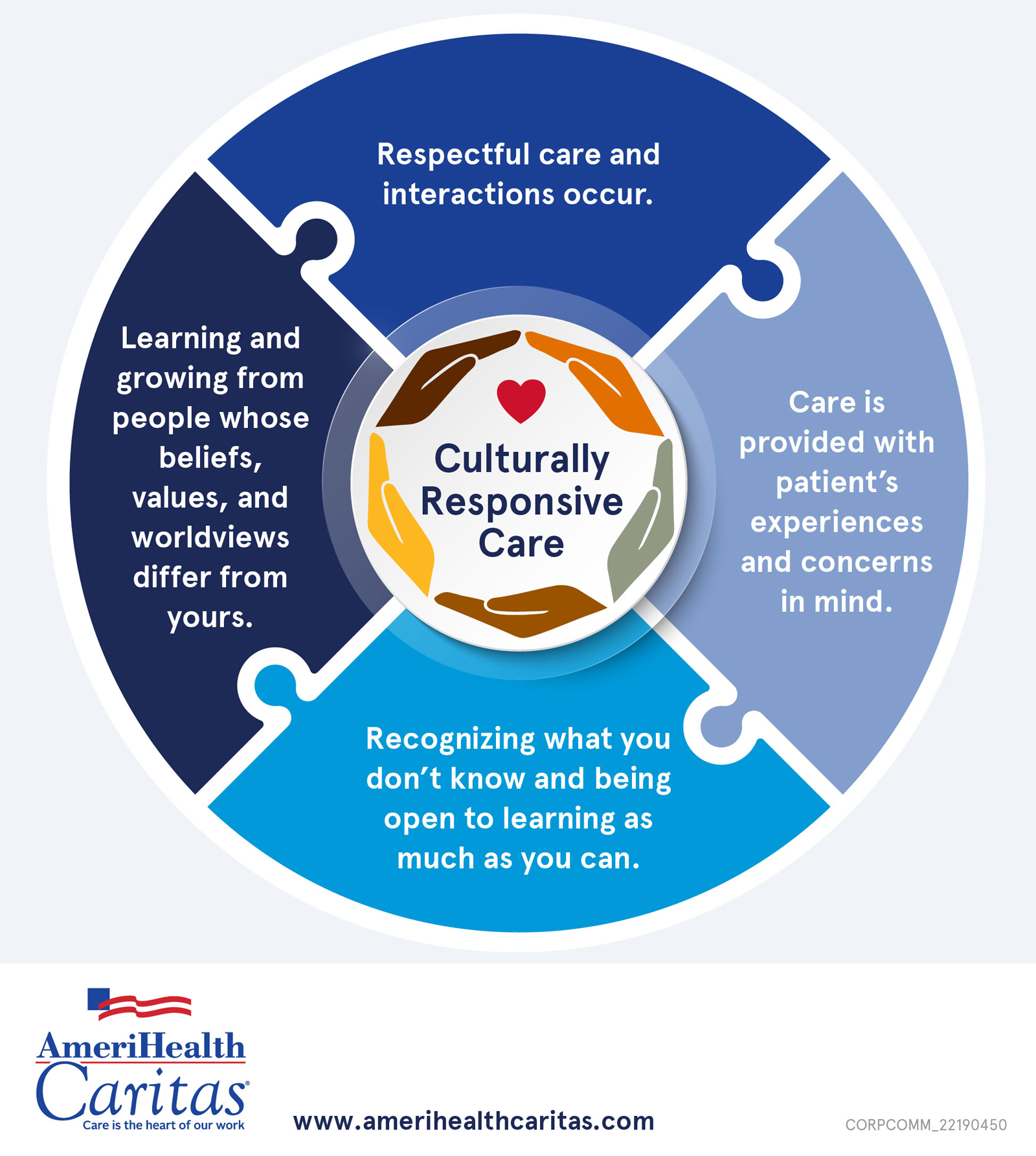 Download the Cultural Responsiveness Infographic PDF.
A Bright Start® for mothers and babies
Support for maternal health before, during, and after pregnancy
Early prenatal care is the first step toward a healthy, full-term delivery. That's why at AmeriHealth Caritas, we engage with our expecting members through our Bright Start program. With its focus on maternal care, Bright Start works to improve birth outcomes and reduce pregnancy-related complications through early prenatal education and intervention.
The program connects with mothers-to-be with care coordination and educational needs, and addresses various issues throughout the member's pregnancy and the postpartum period. Bright Start offers a multifaceted approach to engagement through innovative programming, technology, member incentives, and provider partnerships to address the diverse needs of our birthing population and at-risk children.
Our goal is to help ensure our members have the support they need for a safe pregnancy and a healthy baby. We want to be sure they:
Sign up for childbirth and other health information classes
Choose the right provider for themselves and their baby's needs
Have information on staying healthy with prenatal vitamins, nutritious food, exercise, and connections to essential resources and support
Work closely with their provider and other health care professionals to access the whole-person care they need
Learn more about our health outreach programs.
Culturally sensitive training and support for associates and providers
Bias training and culturally responsive training for associates and providers to help reduce mistrust in the health care system and ensure health care professionals understand how to meet members and patients where they are
Support for providers, both traditional and non-traditional, who care for and promote the unique needs of Black women
For more information on maternal health and mortality, visit the CDC website.
DL Hoyert, "Maternal mortality rates in the United States, 2021," NCHS Health E-Stats, March 2023, https://www.cdc.gov/nchs/data/hestat/maternal-mortality/2021/maternal-mortality-rates-2021.htm
"Racial/Ethnic Disparities in Pregnancy-Related Deaths — United States, 2007–2016," US Department of Health and Human Services/Centers for Disease Control and Prevention Morbidity and Mortality Weekly Report (MMWR), September 6, 2019, https://www.cdc.gov/mmwr/volumes/68/wr/mm6835a3.htm