130/80 Is the New 140/90
New guidelines mean half of Americans have high blood pressure

Philadelphia, Pa.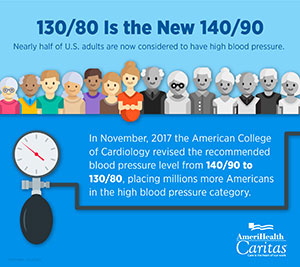 Download PDF
Heart disease is the leading cause of death in the United States. It is responsible for one in every four deaths. The good news is that heart disease can be prevented. There are steps you can take today to reduce your risk. But new blood pressure guidelines recently released by the American Heart Association mean nearly half of U.S. adults are now considered to have high blood pressure.
"Preventing heart disease requires collaboration between patient and doctor," said Dr. Andrea Gelzer, chief medical officer of AmeriHealth Caritas, a national leader in health solutions for people in need. "When people understand the underlying causes of heart disease such as high blood pressure, cholesterol and smoking, they can be more active participants in their own heart health. The new blood pressure guidelines mean it is more important than ever to get your blood pressure checked and speak to your doctor about the results."
Here are some foundational ABCs to maintaining a healthy heart:
Aspirin
Ask your doctor if you should be taking an aspirin each day.
Blood pressure
In November 2017, the American College of Cardiology revised the recommended blood pressure level from 140/90 to 130/80, placing millions more Americans in the high blood pressure category. Consult the infographic to view the new blood pressure targets.
Cholesterol
Get tested and work with your doctor to lower your cholesterol if necessary.
Smoking
Stop smoking or don't start. Cigarette smoking greatly increases your risk for heart disease. If you're a smoker, quit as soon as possible. Get help at 1-800-QUIT-NOW or http://www.smokefree.gov.
New Important Guidelines You Need to Know
What are considered "safe numbers" ?
Making sure your medical measurements are normal is an important part of your health. If you have a chronic condition such as diabetes or heart disease, please talk with your doctor to see what measurements are recommended for you.
For more information
To learn more ways to reduce your risk, visit millionhearts.hhs.gov.