A Woman's Guide to Preventive Care by the Numbers
What to Screen, and When

Philadelphia, Pa.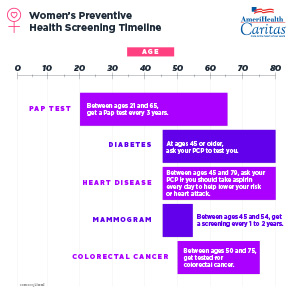 Download PDF
AmeriHealth Caritas, a leading Medicaid managed care organization (MCO), is supporting Women's Health Month by encouraging women to seek preventive care. Preventive screening tests can detect diseases early when they're easiest to treat.
"The power of preventive screenings and early detection cannot be understated," said Dr. Andrea Gelzer, Chief Medical Officer at AmeriHealth Caritas. "It's important for women to be proactive about seeking preventive care for the range of health issues that may surface over time."
@ 20 years of age
Cholesterol screening: Once you turn 20, have your cholesterol checked every 4 to 6 years. Have it checked more often if you have diabetes, a history of heart disease, high blood pressure, a BMI of 30 or higher, or if you smoke.
@ 21 years of age
Pap test: If you are age 21 to 65, get a Pap test once every 3 years. Talk with your primary care provider (PCP) about how often you should be tested. You still need a well-woman visit yearly even if you do not need a Pap test.
@ 45 years of age
Diabetes: If you are age 45 or older and are overweight or at high risk for diabetes, ask your PCP to test you. Diabetes, or high blood sugar, can cause problems with your heart, eyes, feet, kidneys, nerves, and other body parts.
Heart Disease: If you are age 45 to 79, ask your PCP if you should take aspirin ever day to help lower your risk of a heart attack.
Mammogram: If you are age 45 to 54, get a screening every 1 to 2 years. Talk with your PCP about your personal risk factors, together you can decide when you should start getting mammograms and how often.
@ 50 years of age
Colorectal Cancer: If you are age 50 to 75, get tested for colorectal cancer. You and your PCP can decide which test is best. If you have a family history of colorectal cancer, you may need to be tested before you turn 50.
@ 60 years of age
Vision Disorders: Starting at age 60 (age 40 if you are African American), have a full eye exam with dilated pupils at least every 2 years. This will check for glaucoma and other eye problems. If you have diabetes, you should have an eye exam each year no matter what age you are.
Talk to your primary care provider (PCP) about how to prioritize preventive health screenings, and the frequency in which you should schedule them based on risk factors associated with your family history and age.