Don't Miss the Early Warning Signs of Alzheimer's Disease
June is Alzheimer's and Brain Awareness Month

Philadelphia, Pa.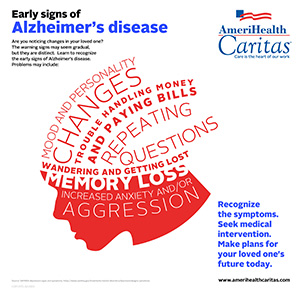 Download PDF
Anyone can temporarily forget the name of a song, a movie title or a former neighbor's name every once in a while. But when a loved one asks you the same question twice in five minutes, seems unusually aggressive, and begins to lose things around the house, it may be the earliest signs of Alzheimer's Disease (AD).
Medicines can treat the symptoms of the disease, but there is still no cure for AD. While heart disease and cancer are ranked as the top two causes of death in the United States, AD is likely underreported and may have jumped from sixth to third, according to the NIH1.
AD is a fatal form of dementia, according to the CDC2. Most adults with the disease are 65 years old or older. However, it is likely that damage to the brain begins much earlier than when symptoms appear. During this preclinical stage of AD, patients may seem fine but brain damage has already begun. Early diagnosis can help the patients and their loved ones begin to plan for their future.

Signs of early-onset AD may begin in a patient's 30s, according to the NIH3. It is these earliest signs that can be the hardest to detect, especially when loves one don't want to believe the changes that are happening.
"Loved ones may be the last to admit that the changes they are seeing may be the first signs of Alzheimer's Disease," said Dr. Andrea Gelzer, MD, MS, FACP, senior vice president and corporate chief medical officer for AmeriHealth Caritas, a national leader in Medicaid managed care and other health care solutions for those most in need. "But once these symptoms are identified in these patients, their loved ones can help them get the medical attention they need."
According to the NIH's National Institute on Aging4, the earliest signs of AD include:
Memory loss
Repeating questions
Losing things or misplacing them in odd places
"Alzheimer's is a challenging disease for many of our families," said Sarah Owens, vice president of Medicare at AmeriHealth Caritas. "Patients can lose the ability to recognize familiar surroundings, even their loved ones, and eventually the ability to communicate at all. It is important to put a plan in place before a crisis occurs. A health plan care manager can help to evaluate the options and assist in this process."
NIH, National Institute on Aging, "Alzheimer's Disease Fact Sheet," August 17, 2016, https://www.nia.nih.gov/health/alzheimers-disease-fact-sheet (accessed May 21, 2018).
Centers for Disease Control and Prevention, "US Death Rates from Alzheimer's Disease Increased 55 Percent from 1999 to 2014, May 25, 2107, https://www.cdc.gov/media/releases/2017/p0525-alzheimer-deaths.html (accessed May 15, 2018).
NIH, National Institute on Aging, "What Are the Signs of Alzheimer's Disease," May 16, 2017, https://www.nia.nih.gov/health/what-are-signs-alzheimers-disease (accessed May 21, 2018).
Ibid.