There is More than One Way to Get Screened for Colorectal Cancer
AmeriHealth Caritas offers advice for reducing disparities in screening rates across demographics

Philadelphia, Pa.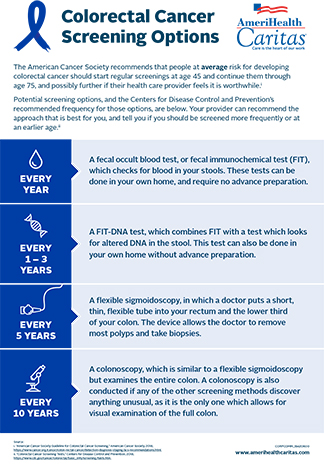 Download PDF
According to the American Cancer Society, colorectal cancer, or cancer that starts in the rectum or colon, is the third most common non-skin cancer diagnosed in American men and women.1 Regular screening is particularly important for colorectal cancer, even for those not considered high risk. While five-year survival rates are as high as 90 percent (PDF) for colorectal cancer caught at a localized stage,2 many people don't experience symptoms until the disease is more advanced and treatment is much more difficult.3
The American Cancer Society recommends that people at average risk for developing colorectal cancer should start regular screenings at age 45 and continue them through age 75, and possibly further if their doctor feels it is worthwhile.4 However, research has found both disparities in screening completion rates and differences in preferred screening methods across racial and ethnic groups.5 According to claims data and medical records, AmeriHealth Caritas' diverse membership also completes screening using multiple methods.6 This suggests that efforts to reduce screening disparities should focus on providing targeted, evidence-based screening options that also address individual patients' preferences.7
"We believe that it is important to not pressure our members to use one particular screening approach. It is up to them and their doctor to determine the method and frequency that is best in their case," said Dr. Andrea Gelzer senior vice president of medical affairs for AmeriHealth Caritas. "The important thing is that everyone get regularly screened."
Screening methods, and the Centers for Disease Control and Prevention's (CDC's) recommended frequency for those at average risk, include:8
Every Year: A fecal occult blood test or fecal immunochemical test (FIT). Both check for blood in your stools. These tests can be done in your own home, and require no advance preparation.
Every 1-3 Years: A FIT-DNA test, which combines FIT with a test which looks for altered DNA in the stool. This test can also be done in your own home without advance preparation.
Every 5 Years: A flexible sigmoidoscopy, in which a doctor puts a short, thin, flexible tube into your rectum and the lower third of the colon. The device allows the doctor to remove most polyps and take biopsies.
Every 10 Years: A colonoscopy, which is similar to a flexible sigmoidoscopy but examines the entire colon. A colonoscopy is also conducted if any of the other screening methods discover anything unusual, as it is the only one which allows for visual examination of the full colon.
AmeriHealth Caritas' Medicaid managed care health plans in Delaware, Florida, Louisiana, Michigan, Pennsylvania, South Carolina, and the District of Columbia, as well as its Medicaid-Medicare plans in Michigan and South Carolina, cover the costs of colorectal cancer screening tests (PDF) on the CDC's schedule from ages 45 to 75, and earlier and/or more frequently for members considered to be higher risk.9 However, other Medicaid plans can have different policies, which may also be driven by the laws of their respective states.
If you are covered by other types of health insurance, you should check with your health plan to find out which tests are covered and how much you should expect to pay out of pocket.
Key Statistics for Colorectal Cancer. American Cancer Society, 2018. https://www.cancer.org/cancer/colon-rectal-cancer/about/key-statistics.html
Study Shows Low-Income Uninsured in Need of Colorectal Cancer Screening Services. American Cancer Society Cancer Action Network, 2016. http://nccrt.org/wp-content/uploads/FINAL-CRC-GWU-summary-08.19.16.pdf
Colon cancer symptoms & causes. Mayo Clinic, accessed 26 December 2018. https://www.mayoclinic.org/diseases-conditions/colon-cancer/symptoms-causes/syc-20353669
American Cancer Society Guideline for Colorectal Cancer Screening. American Cancer Society, 2018. https://www.cancer.org/cancer/colon-rectal-cancer/detection-diagnosis-staging/acs-recommendations.html
Burnett-Hartman A, Mehta S, et. al. Racial/Ethnic Disparities in Colorectal Cancer Screening Across Healthcare Systems. American Journal of Preventive Medicine, 2016, 51(4): e107-e115. https://www.ncbi.nlm.nih.gov/pmc/articles/PMC5030113/
AmeriHealth Caritas HEDIS results for Michigan, Pennsylvania, and South Carolina Medicare. AmeriHealth Caritas, 2018.
Burnett-Hartman A, Mehta S, et. al. Racial/Ethnic Disparities in Colorectal Cancer Screening Across Healthcare Systems. American Journal of Preventive Medicine, 2016, 51(4): e107-e115. https://www.ncbi.nlm.nih.gov/pmc/articles/PMC5030113/
Colorectal Cancer Screening Tests. Centers for Disease Control and Prevention, 2018. https://www.cdc.gov/cancer/colorectal/basic_info/screening/tests.htm
Clinical Policy Title: Colorectal cancer screening. AmeriHealth Caritas, 2018. http://www.amerihealthcaritasla.com/global/assets/pdf/provider/clinical-policies/ccp1319-1906-colorectal-cancer-screening.pdf
Insurance Coverage for Colorectal Cancer Screening. American Cancer Society, 2018. https://www.cancer.org/cancer/colon-rectal-cancer/detection-diagnosis-staging/screening-coverage-laws.html