As Autism Prevalence Rises, Diagnosis Gap Remains Between Socioeconomic Groups
Recognizing the signs and talking with physicians can help narrow the disparity

Philadelphia, Pa.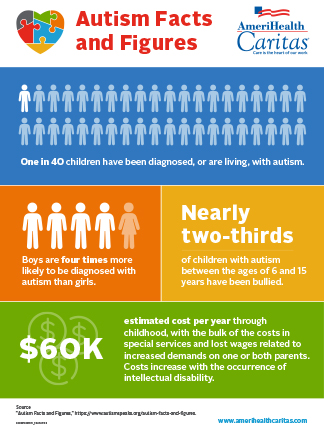 Download PDF
According to a recent study led by the Health Resources and Services Administration (HRSA), about 1.5 million U.S. children — or 1 in 40 — have been diagnosed or are living with autism1, a developmental disorder characterized by difficulty in social interaction and communication and restricted or repetitive patterns of thought and behavior.
As prevalence of autism continues to grow, so does the diagnosis gap between children from different socioeconomic backgrounds. According to a report based on data from the National Survey of Children's Health (NSCH), diagnoses were higher in groups with higher income and more access to insurance. The report identified a dramatic increase — by 36 percent — for children in households with incomes 400 percent or higher above the federal poverty line between 2003 and 2012. Children living below the poverty line saw only a 13.3 percent increase in the same time period.2
The delay in getting a diagnosis or even the lack of a diagnosis can have detrimental effects, said James Laughman, president of PerformCare, a full-service managed behavioral health care organization that is a part of AmeriHealth Caritas, a national leader in Medicaid managed care and other health care solutions for those most in need.
"The existence of a developmental disability combined with lower levels of socioeconomic status can result in undesirable outcomes, including poorer health and a lower quality of life," Laughman said. "Low income and poor education can present increased barriers to obtaining health care and even greater challenges when a health issue like autism exists."
There is no known cause of — or cure for — autism, but early diagnosis, intervention and access to appropriate services and supports have been known to lead to significantly improved outcomes. The range and severity of autism symptoms can vary widely, but parents and caregivers should take note of the following behavioral, cognitive and psychological signs3:
Poor eye contact
Impulsive or repetitive movements
Persistent repetition of words or actions
Deficits in language comprehension
Delay in learning to speak
Inability to understand or be aware of other people's emotions
While children develop at their own pace, children with autism usually show some signs of delayed development before the age of 2. Parents concerned about these symptoms or other signs that may point to developmental delays should speak with their child's primary care provider to request a screening.
"HRSA-led study estimates 1 in 40 U.S. children has diagnosed autism." Date last reviewed: November 2018 - https://www.hrsa.gov/about/news/press-releases/hrsa-led-study-estimates-children-diagnosed-autism
Kids are affected differently by mental and physical disorders, depending on their family's income" February 14, 2017 - https://www.additudemag.com/adhd-asthma-and-autism-all-tied-to-family-income-levels/
Autism spectrum disorder overview – Mayo Clinic https://www.mayoclinic.org/diseases-conditions/autism-spectrum-disorder/symptoms-causes/syc-20352928