Men Advised to Step Up for a Checkup
Despite Social and Economic Advantages, Men Live Shorter Lives than Women

Philadelphia, Pa.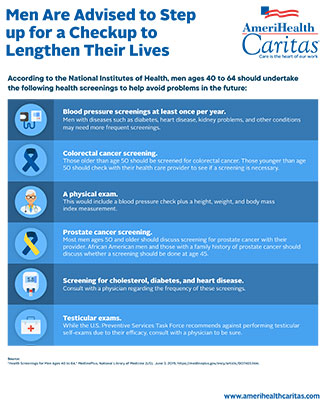 Download PDF
Men need to step up. Traditionally, they neglect their health and it comes at a cost: a shorter lifespan.1 Key social factors2 play a role, including perceptions around masculinity and seeking help, but it is important for men to regularly visit a doctor's office as appropriate.
"In my 30 years of practice in family medicine and emergency medicine, I saw that men often took better care of their cars than their own bodies. And that often led to trouble," says Gaspere Geraci, MD, market chief medical officer at AmeriHealth Caritas, a national leader in Medicaid managed care and other health care solutions for those most in need. "Often it's the spouses, significant others, and loved ones who ultimately persuade men to see a health care professional but men need to take responsibility for their own health."
Preventive care is key to avoiding health problems down the road:
Despite men having social and economic advantages over women, men live shorter lives.1
According to the NIH, men are smoking and drinking alcohol more than women, making poor lifestyle choices and putting off regular checkups and medical care.3
Colon cancer and heart disease could be prevented and treated if men were properly screened.3 Men are more likely to develop high blood pressure before the age of 554 and face health conditions like prostate cancer.3
Lack of sleep and exercise, tobacco use, poor diet, stress and ignoring warning signs may lead to a host of additional health issues including diabetes, high blood pressure, depression, and even accidents.5
Men's health is an even greater concern in the African-American community due to racial disparities, according to the American Journal of Preventive Medicine.2 African-American men have a higher prevalence of obesity and hypertension.2 Black men with cardiovascular disease die prematurely almost twice as often as white men.2 Their incidence of stroke is 80 percent higher than for white men, and they get cancer more than white men.2
Geraci says that health care inequities and costs take a high toll on black men's health. "If black men are unable to afford or eat healthier foods, have higher stress levels, use tobacco, and are sedentary, their health is going to suffer more than white men."
According to the National Institutes of Health,6 men ages 40-64 should undertake the following health screenings to help avoid problems in the future:
Blood pressure screening at least once per year. Men with diseases such as diabetes, heart disease, kidney problems, and other conditions may need more frequent screenings.
Colorectal cancer screening. Those older than age 50 should be screened for colorectal cancer. Those younger than age 50 should check with their health care provider to see if a screening is necessary.
A physical exam. This would include a blood pressure check plus a height, weight, and body mass index measurement.
Prostate cancer screening. Most men ages 50 and over should discuss screening for prostate cancer with their provider but African American men and those with a family history should discuss whether a screening should be done at age 45.
Men should be screened for cholesterol, diabetes, and heart disease. Consult with a physician regarding the frequency of these screenings.
Testicular exams. While the U.S. Preventive Services Task Force recommends against performing testicular self-exams due to their efficacy, consult with a physician to be sure.About AmeriHealth Caritas Family of Companies
About AmeriHealth Caritas Family of Companies
AmeriHealth Caritas is one of the nation's leaders in health care solutions for those most in need. Operating in 11 states and the District of Columbia, AmeriHealth Caritas serves more than 5 million Medicaid, Medicare and Children's Health Insurance Program (CHIP) members through its integrated managed care products, pharmaceutical benefit management and specialty pharmacy services, and behavioral health services.
Headquartered in Philadelphia, AmeriHealth Caritas is a mission-driven organization with more than 35 years of experience serving low-income and chronically ill populations. AmeriHealth Caritas is part of the Independence Health Group in partnership with Blue Cross Blue Shield of Michigan. For more information, visit www.amerihealthcaritas.com.
National Center for Biotechnology Information."Social Determinants of Men's Health Disparities." Accessed May 7, 2019. https://www.ncbi.nlm.nih.gov/pmc/articles/PMC4876596/
American Journal of Preventive Medicine. "African American Men's Health: Research, Practice and Policy." Accessed May 7, 2019. https://medicalxpress.com/news/2018-10-african-american-men-health-disparities.html
NIH. "Men's Health." Accessed May 9, 2019. https://medlineplus.gov/menshealth.html
NIH. "During Men's Health Week, NHLBI scientists available to discuss research on men's health." Accessed March 22, 2019. https://www.nhlbi.nih.gov/news/2017/during-mens-health-week-nhlbi-scientists-available-discuss-research-mens-health
Centers for Disease Control and Prevention. "Celebrate National Men's Health Week, June 12-18, 2017." Accessed May 10, 2019. https://www.cdc.gov/family/nmhw/index.htm
Medline Plus, National Library of Medicine (US). "Health screenings for men ages 40-64. Accessed June 14, 2019. https://medlineplus.gov/ency/article/007465.htm.