AmeriHealth Caritas' Inclusion of Community Health-Based Services Reduces Emergency Room Utilization
Survey data indicates strong link between addressing social determinants of health and reducing inpatient admissions by nearly 30 percent

Philadelphia, Pa.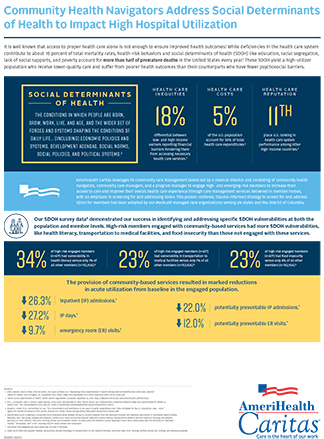 Download PDF
An analysis of data compiled by AmeriHealth Caritas' clinical and health care analytics teams indicates that high-risk Medicaid members who receive community-based services, with an emphasis on screening for and addressing the social determinants of health, experience a reduction in hospitalization rates.
Social determinants of health are the conditions in which people are born, grow, work, live, and age, and shape the conditions of daily life.1 These factors significantly impact a person's well-being and lifespan.2 Addressing the social determinants of health is fundamental to AmeriHealth Caritas' integrated health care delivery model — the Next Generation Model of Care. The Medicaid managed care organization has established a protocol for its Community Care Management Team – consisting of community health navigators, licensed nurses and social workers – to assess any socioeconomic factors that may contribute to poor health outcomes for Medicaid members.
During the last quarter of 2018, AmeriHealth Caritas analyzed the outcomes of nearly 1,000 members who have one or more chronic illnesses – such as cardiovascular disease, diabetes or high blood pressure – that have led to multiple hospital readmissions, and evaluated their claims, their hospital utilization rates, and responses to standardized survey questions about the social determinants of health. The Medicaid managed care organization concluded that its community health services initiatives were successful in reducing emergency room visits and inpatient admissions. Specifically, members experienced the following improvements when they received community-based services alongside clinical care:
A 26.3 percent drop in inpatient admissions;
A 27.2 percent reduction in inpatient days;
A 9.7 percent drop in emergency department visits;
A 22 percent reduction in potentially preventable admissions;
A 12 percent reduction in potentially preventable emergency department visits.
"In our many decades as a community-focused organization, we intuitively understood what the data reveals: that there is a clear relationship between poor health and socioeconomic factors such as employment status, income and nutrition," said Dr. Fred Hill, AmeriHealth Caritas' Senior Vice President of Population Health. "We cannot achieve health equity for our members if we do not address these social determinants of health and, ultimately, poverty itself."
Health literacy, food insecurity and transportation to medical facilities, for example, are markedly more prevalent among the same high-risk member population than all other members surveyed. When compared to all other members, 34 percent of high-risk members surveyed reported a lack of health literacy; 23 percent experienced food insecurity; and 23 percent lacked transportation to medical facilities.
Data collection and analysis is a key tenet of the Next Generation Model of Care, which focuses on whole-person health and includes the Community Care Management Team's protocol to address the social determinants of care. By capturing data and information from more members and health care providers, the organization will gain insight to guide the ongoing execution of strategies that target economic, social and environmental barriers that create health disparities in underserved communities.
Hill said the organization's community wellness centers also have an important role in helping members mitigate the prevalence and progression of chronic diseases. In addition to providing health screenings and healthy living classes, the community wellness centers connect members to essential community resources that can help members remove social and economic barriers to achieving good health.
"By developing strategic partnerships with social service organizations within communities we serve, we can help members and their caregivers address the non-medical factors that can affect their lives," he said. "We know it's a non-traditional approach to health care, but it is one that clearly works."
Social Determinants of Health. https://www.who.int/social_determinants/en/
Social Determinants of Health. https://www.healthypeople.gov/2020/topics-objectives/topic/social-determinants-of-health