AmeriHealth Caritas: Men Face Particular Risk for Depression During COVID-19 Pandemic
Men Experience Higher Levels of Stress as Crisis Continues

Philadelphia, Pa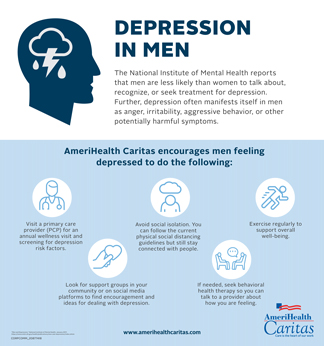 Download PDF
Depression can be serious for anyone, but for men it manifests in ways that can be particularly dangerous. The National Institute of Mental Health reports that men are less likely than women to talk about, recognize, or seek treatment. Further, when men do exhibit symptoms of depression, they often include anger, irritability, or aggressive behavior1 – all of which can be harmful for themselves and their relationships. Social and economic dynamics resulting from the COVID-19 pandemic may exacerbate these conditions.
Job loss, a key fallout of the COVID-19 pandemic, is a strong emotional trigger for men. According to the U.S. Department of Labor, nearly 43 million Americans have filed for unemployment benefits since the pandemic began, which may play out differently for women than men. An April 2020 Harvard Business Review article found that women feel unemployment, at least in the short term, gives them more time to focus on parenting duties they may struggle to balance while working full time. Fathers, on the other hand, can feel like they don't fit in anywhere other than a traditional workplace during daytime hours on weekdays2. The effects of the pandemic can render a particular impact on the mental health of men, according to Dr. Yavar Moghimi.
"Men frequently have much of their self-worth tied up in their work. That makes times of high unemployment, when a new job is much harder to come by, particularly hard on their psychological well-being," said Yavar Moghimi, M.D., a behavioral health medical director for AmeriHealth Caritas. "Additionally, too often men consider talking about and seeking help for depression to be a sign of weakness. Combine these, and it is clear why depression in men should be taken seriously."
According to Moghimi, efforts to support men to seek help should start by encouraging them to look at depression as a physical health problem, not just a mental health one. Research confirms this concern: a 2014 American Heart Association statement listed depression as a risk factor for poor prognosis after a heart attack3. And Moghimi explained that other physical health problems, especially those that cause inflammation within the body, can both worsen and be worsened by depression.
Further, the link between COVID-19, chronic disease, and depression is amplified in communities of color, noted Moghimi. The pandemic has compounded long-existing social and health disparities that affect Black men, which could be exacerbated by depression. Recent statistics from the U.S Department of Labor indicate the rate of unemployment for Black workers continues to increase, while the jobless rate for white workers declines. And people of color face higher rates of heart disease, type 2 diabetes, and obesity, which, according to the Centers for Disease Control and Prevention, makes them 12 times more likely to die from COVID-19 than those without those conditions.
"This is further evidence that behavioral health is a critical component of physical health," said Dr. Moghimi. "Depression can impede one's ability to manage physical health problems, and should not be ignored."
With that in mind, Dr. Moghimi recommends men feeling depressed do the following:
Visit a primary care provider (PCP) at least once per year: An annual wellness visit is an opportunity to be screened for risk factors of depression, as most people get behavioral health treatment in a primary care setting.
Avoid social isolation: Social distancing guidelines enacted by many jurisdictions during the pandemic actually refer to being physically distant from others. People can and should still remain socially connected on a regular basis.
Exercise regularly: In addition to the physical health benefits, vigorous exercise can help your mental state of mind.
Participate in support groups: Check out organizations in your community and social media platforms that can provide you support and ideas for dealing with depression. The federal Substance Abuse and Mental Health Services Administration also has a Disaster Distress Helpline: call 1-800-985-5990 (TTY 1-800-846-8517) or text TalkWithUs to 66746.
Look at therapy as a conversation: When depression requires treatment by a behavioral health clinician, view therapy as a conversation with a neutral perspective. In the hopes of breaking the stigma many men associate with behavioral health care, PCPs and others should frame this treatment in the same way.
Men & Depression. National Institute of Mental Health, Jan. 2017.
Rao A.H. When Losing Your Job Feels Like Losing Your Self. Harvard Business Review, 21 April 2020. https://hbr.org/2020/04/when-losing-your-job-feels-like-losing-your-self
"Depression and heart disease: A two-way street. Harvard Health Publishing, Nov. 2016. https://www.health.harvard.edu/heart-health/depression-and-heart-disease-a-two-way-street